TranVit has an intuitive and easy way of use. You can obtain the timetable for one stop, you can obtain the best route to go from one place to another in Vitoria-Gasteiz and you can be informed about all the news regarding public transport in Vitoria-Gasteiz.
Search for stops
01You can select a line easily.
02You can obtain the information regarding the different lines and stops according the information provided by TUVISA and EUSKOTRAN.
03You don't need internet connection to use this information.
01Once you have selected the line, TranVit will show the list of stops for that line.
02You can indicate the "from" and "to" information.
03TranVit gives information about timetables for the current moment and for the future (for example, it is possible to retrieve information about the bus timetables for the weekend).
01Once "from" and "to" have been selected, TranVit shows the timetables for that option.
02TranVit will calculate time estimation for the trip.
03It is possible to save a stop as favorite clicking in the star icon. This stop will be selected easily from the main menu.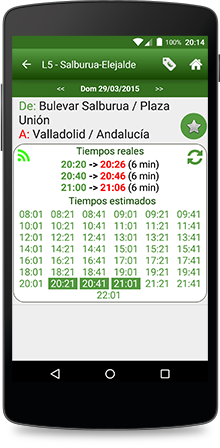 Search for a route
MAP tab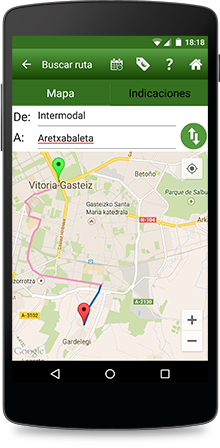 01You can select "from" and "to":
Tapping the map.
Writing the indications with the keyboard.
Using the voice.
Selecting the current location.
02TranVit calculates routes in Vitoria-Gasteiz combining public transport and walking.
03TranVit will show in the map the best option for that route.
04TranVit will indicate with different colors every line that must be used in that route.
INDICATIONS tab
01TranVit will show the indications for the route in the map.
02You can choose between 4 different routes. These routes will be sorted in the most optimal way according to the moment.
03You can search a route:
For the current moment.
For a concrete date and time.
Arrive at a concrete time in a concrete date.
04It is possible to set a route as favorite clicking in the star icon.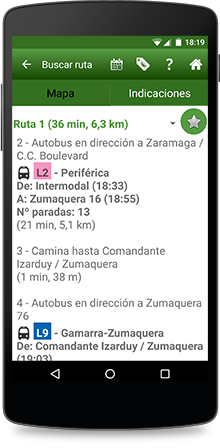 News service
TranVit will inform about the news regarding public transport in Vitoria-Gasteiz.
01Service changes.
02Strikes.
03Holidays,...
04Road works.
05Line changes.
06Other issues